No two dogs are the same, so the process can vary slightly from family to family, and from problem to problem. But whether you are working on reactive dog behaviour, separation anxiety, trauma and anxiety, or something else, here's what you can expect from your private dog behaviour consultation with me.
Assessment
We'll start with a proper assessment. I'll already have a basic idea of what you'd like to work on and I'll know a little about you and your dog. But we'll dig a little deeper at this stage. This could be done via a combination of virtual and face to face meetings, but for most people, I'll come to you for this part.
Well have a good chat about your dog and I'll ask you lots of questions. None of which are meant to catch you out, by the way. There is no right or wrong answer, I'm just trying to get a clear picture so I can give you the best advice. If your dog is a rescue dog, you won't know all the answers. Don't worry, as a rescue dog and trauma specialist, I'm getting pretty good at filling in the gaps.
A few examples might be:
When did the problem start, and was it a gradual or sudden change?
What have you already tried to solve the problem, if anything?
How did they settle in when they first arrived?
How have you trained them in the past?
What makes them happy?
What were they like as a puppy?
I like to see the dog at his best, and worse, if possible. It's also useful to see how he is away from the home, so we might take him out for a walk too. The better I know your dog the better.
Getting to the root of the problem
As I'm building up a picture of your dog, I'll be considering the root cause of the problem and any supporting behaviours. For example, if the dog is barking out the window at passers-by he could be guarding the house, protecting you, protecting himself, calling for back-up, trying to get their attention, trying to get your attention, or something else.
Supporting behaviours achieve the same aim as the main issue but may not be so problematic. For example, a territorial dog might scent mark on a walk. Most people aren't bothered by this behaviour, but it's all part of the job to him so we shouldn't ignore it.
Doing it like this prevents the problem evolving into something else. It's no good teaching him to stop barking at the window, only for him to start lunging at people on the walk, or growling at visitors instead. Much better to teach him not to guard!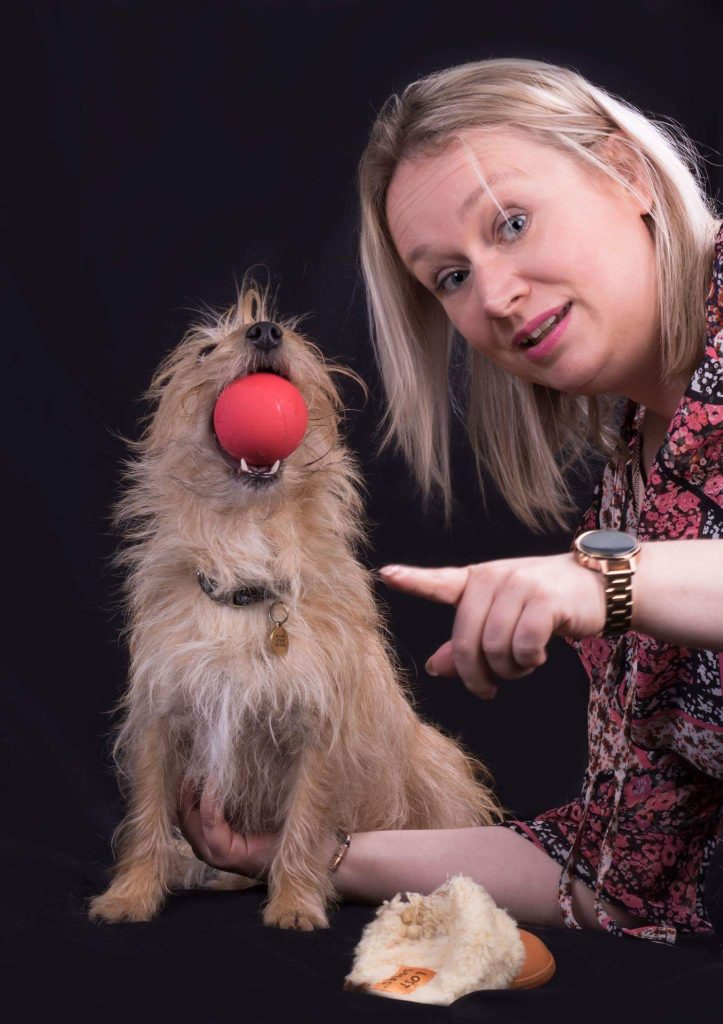 Getting started
Once we have a good idea of what needs to be done, we'll get started on the techniques together. As well as working on the underlying problem, we'll also be looking at managing emotions, related behaviours, confidence boosting, calming techniques and any other training that might be useful later on.
Every situation is so different, and what suits one may not suit another. Sometimes I recommend using treats, sometimes I don't, sometimes I recommend clickers, sometimes it's a staggered approach, sometimes controlled avoidance, sometimes we go all in, sometimes I use toys, sometimes we put them away for later, sometimes there are new rules, sometimes there are none! It depends so much on the dog and situation. One size does not fit all.
I have tried out most kinds of techniques over the years, many of them on my own rescue dogs, or foster dogs. So I know which ones are faddy, who they work best for, and the long term effects. That's why it's so important to do a proper assessment. In any case, I don't use harsh methods. All my techniques are intended to strengthen the bond you have with your dog, relieve fear, and build trust.
By the end of your first session you will have the beginnings of a behaviour plan for your dog. You'll have plenty to get started with, so I'll leave you to make a start. We'll book your next session before I go and usually I'll suggest a 2-3 weeks gap. This will give you plenty of time for your "homework" and to get the preliminary training in place before we try to move forward. I don't want to rush you, or your dog.
Follow Ups
All my training packages include at least one follow-up. But depending on the problems you are having, there might be two or more. This means that we can get the basics in place before moving onto the next steps. The assessment is never truly complete, I'm still watching and learning about your dog. So, I'll monitor his responses and progression and makes tweaks, where we can, to keep you on the best track.
We'll now start working in a more focused way in comparison to your first session. If your dog is reactive to other dogs, we may have started with calm lead walking, managing body language, and easing anxiety in the first session. But in your follow up we'll be looking out for dogs and actively working around them – in a controlled way, of course.
If the problem is quite deep rooted, we'll be finding ways to simplify it as much as possible so you can go at your dogs pace. We'll level up the difficulty, and in this case, get closer, in subsequent sessions. Rushing the process will set you up for disappointment and frustration, and this often leads to quitting.
Support
I'm only an email away at any stage of your training. I want you to succeed, so I encourage you to get in touch if needed. Depending on the problem, and the situation, I might also suggest zoom meetings between follow-ups so we can monitor progress and make tweaks. If you're not into zoom we can chat over the phone instead, but it feels almost as good as a home visit via zoom.
Training sessions complete, you should have a plan in place that is working. That's not the end of it though, far from it actually. We'll finish by scheduling a zoom meeting. This allows us to make sure the training continues to work for you. I'll also use this time to talk about your next steps, and how to make sure the changes are permanent. The rehabilitation process doesn't always go in a straight line so I'm always only an email away, if you need support.
---
How can I help you with your dogs behaviour training?
Private Dog Behaviour Consultations are currently available in the Dundee area and beyond. If you are looking for help solving your dogs behaviour and training problems, then please get in touch!