Steve and Jenny
When my client first contacted me about her dogs, Steve and Jenny, she described a nightmare. Steve didn't like other dogs, and he reacted violently to the mere whiff of another dog. He didn't even have to see it, he just knew there was one nearby. His reaction provoked his sister, and before you knew it they had turned on each other. Walks had stopped being a pleasure, and over time, they had got shorter and shorter.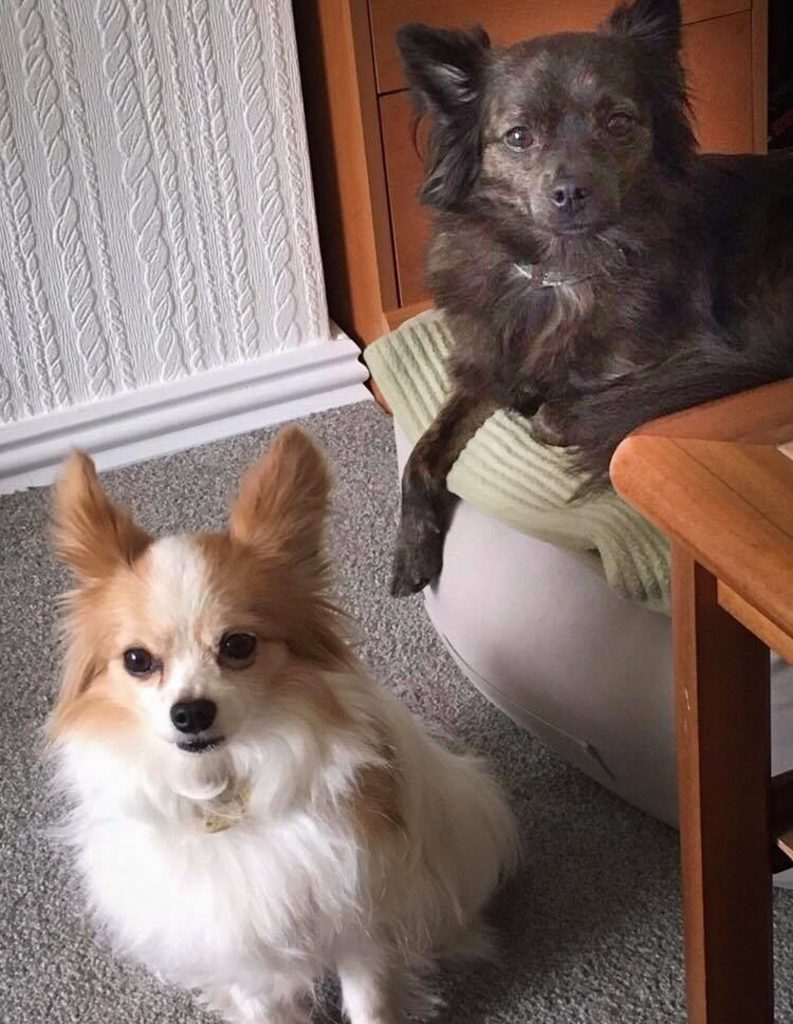 I really felt for her when I read her story. I work with reactive dogs all the time and I know how it feels be to walk with a dog that is lunging, barking, even screaming, at something you are trying to pass. It's a feeling of frustration, anger, embarrassment and helplessness, all rolled into one, and it's not nice. No wonder their walks had gotten shorter, I wouldn't have blamed her for not walking them at all.
She has since told me that she "was concerned Steve had been acting this way for so long that he wouldn't respond to any changes," she also thought that Jenny was un-trainable. I proved her wrong about that too, but I'll tell you more about that later!
The Assessment
I never rush this part. Getting to know a dog, and what makes them tick is essential. It will give me clues as to how they will react to training later, and what techniques will suit them best. We spoke at length about their history, how easy they were to train in the early days, and I heard some great stories about them. I asked about their favourite treats, toys and games, and (very important) what training had worked. We had a great chat over a cuppa and by the end I really felt like I knew them.
Read more about assessing behaviour here
I was also looking for other problems that might be related and I found two. It turns out that Steve and Jenny were also struggling with their house training, and can be hyper especially when people come to the door (although I had already figured that out when I arrived!) Jenny had also resisted all attempts, and there were many, to learn a sit!
Failure to address related behaviours is one reason that training regresses over time. All three of these problems can be considered protective, and it didn't take long to figure out that that was exactly what he was trying to do. Lovely Steve was just trying to keep himself, and his family, safe in the only way he knew.
If we had only worked on the aggression we might have seen temporary results, but in time Steve would become confused. After all, it makes no sense that he is allowed to be territorial sometimes, but not others. His job is either guard dog, or it isn't. Dogs simply don't understand grey areas!
The Walk
We had done enough talking. It was time to take that dreaded walk! The walk is an important part of the assessment process for all dogs, but even more so when the main problem manifests on the walk.
Many people say that going for a walk with me is a strange experience, especially if they have a reactive dog. They are well used to scouring the streets for the one thing they dread, whether it is dogs, or men in hats, or whatever. They choose their route wisely and know all the drives and alleys they can escape down, if they need to. Months, or even years of bad experience has taught them the quietest routes, and the best times to take them. But, this is the walk where we stop avoiding, and start seeking out. This is the walk where you actually want to see another dog, cyclist or tractor. For Steve and Jenny's hu-mum, this was going to be horrible. I promised her that I wasn't judging her, or her dogs, and that I was here to help.
She needn't have worried. We did two laps of the park and met no-one! I did pick up on some territorial peeing, and some protective body language though – more related behaviours.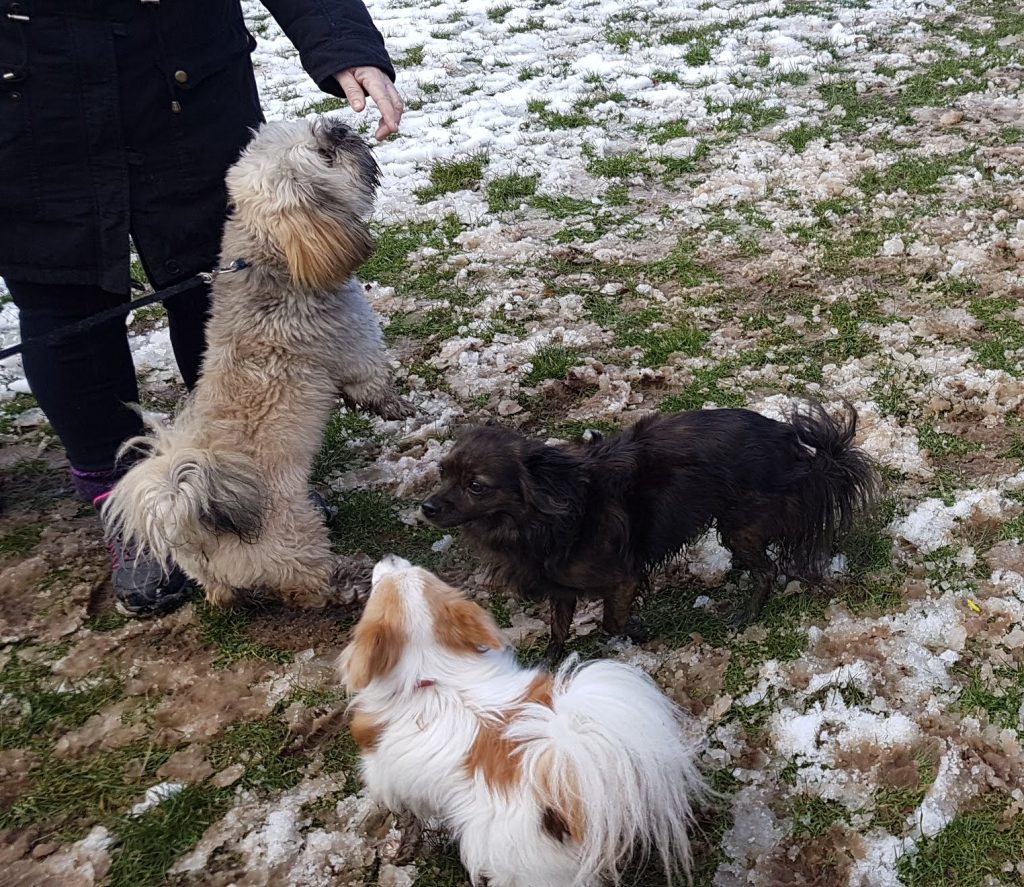 There was no getting around it, we would have to go further afield. So we took a short break at home, before heading into town. We weren't so unlucky this time. After a couple of encounters with other dogs, I was sure I knew what we were dealing with, and a plan had formulated in my mind!
Time to get started on the training
Once I have a plan in mind, it must be tested. So the training begins straight away. We started with the body language and the peeing. In a perfect world, we would get a fifteen minute start on this before we saw another dog. That would give him, and us, some time to adjust to that change before we implemented the next stage of the training. It would also give us time to talk about the next step, and make a few plans. As it happened, we were almost home before we saw another dog. We had talked over the plan at length and all we could do now was try it and see….
He walked past!
Jenny was a little unsettled, and Steve pulled a little on the lead, but he walked past! We couldn't believe it, we were so proud. That was the last dog we saw that morning, but we were so excited. I usually prefer to test the training out a few times, it allows for a lot of "what if's." Instead, we talked about all the different possibilities, and I assured her that she could come and practice on my Pack Walks at Camperdown Park.
At home, we gave the dogs another short rest while we planned out the rest of their training. I wanted to work on the behaviour at the front door. So I demonstrated my special calming techniques, and I showed them the five steps of ignoring. I wanted to get the house training sorted too, so we also made a plan for that.
I then turned my attention to Jenny. When someone tells me their dog is un-trainable I take that as a challenge, and I rarely turn down a challenge. So we got a pile of her favourite treats, and I got down on the floor beside her. My expectations were low, but as I lured, cajoled and (silently begged) her to sit, she slowly started to respond to the positive reinforcement.
As she twisted and turned to get the treat, she got closer and closer to setting her bum on the ground. I stuck with it until she finally did it! You will not believe the joy we all felt as her bum touched down. She got her reward, and we couldn't have been happier for her. After a couple of go's she was getting the idea. She was really enjoying performing her new trick, and she was loving the attention even more.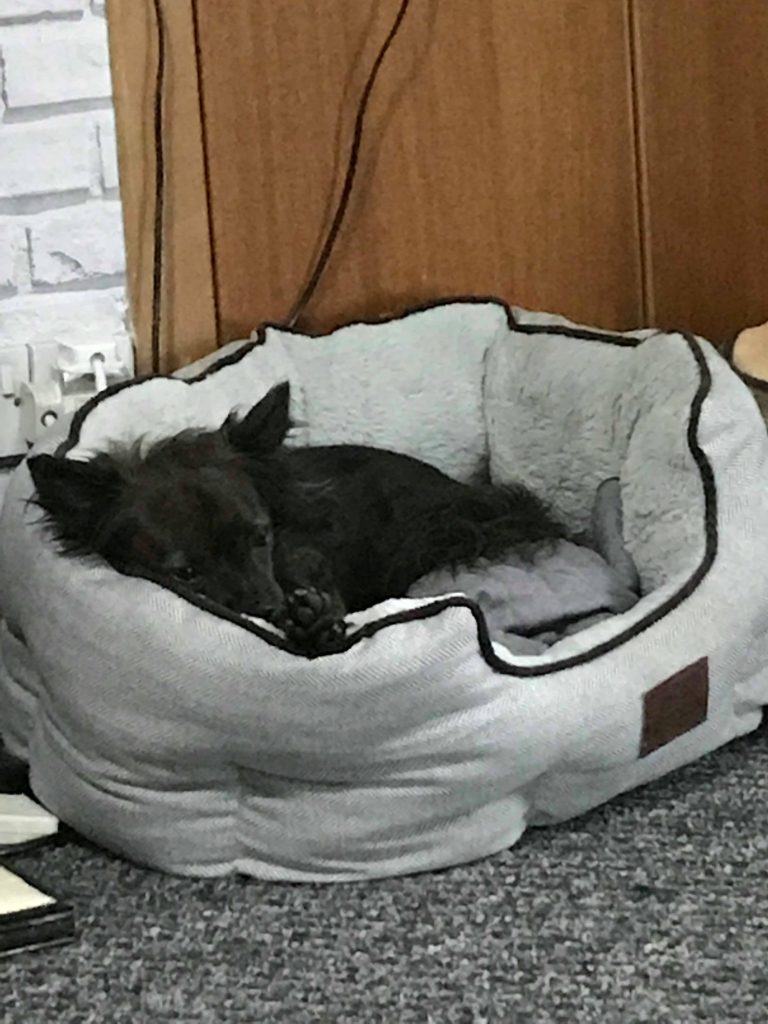 Finishing up
Steve and Jenny were exhausted by the time I left. That's always a good sign. Learning new things is hard work on the brain, so I consider it a job well done if they are ready for their bed by the end of my visit.
I left them with a plan that we had tested, and was working. Plus, I left reassurance that I was only a message or phone call away if they got stuck. I encourage all my customers to stay in touch after my visit. That way we can monitor the dogs progress, and make sure the training continues to work for them.
A few weeks later
The next time I saw Steve and Jenny was on a Pack Walk a few weeks later. The change was unbelievable. Not only was he calmly walking with a large pack of dogs, he was also able to get off his lead for the first time and actually start making friends. She is finally able to enjoy their walks together, and I couldn't be happier for them.
---
Do you need help with your dogs behaviour?
Private Dog Behaviour Consultations are currently available in the Dundee area, and as far as Carnoustie, Broughty Ferry, Monifieth, Tayport, Newport, and Longforgan. If you are looking for advice for your dog then why get in touch and we'll have a chat about the best way to help you!