When you have a hyperactive dog, it's easy to find yourself rushing around as you attempt to keep them entertained, happy, and calm. But sometime, doing less is more effective than doing more. Here are three ways you can do less to achieve more with your hyperactive dog…
Slow down
Hyperactive dogs do everything at 100mph, and we end up chasing them around and trying to keep up. But, the more you can slow things down the better. Slow down when you answer the front door, slow down your lead walks, and slow down the steps of putting their lead on. Slow down everything.
And when I say slow, I mean reaaaaallllyyyy slow. Go so slow, you barely move. Just one step at a time!
This could mean breaking an activity down into steps, for example, put the shoes on – wait – fetch the lead – wait – lead on – wait! You get the idea.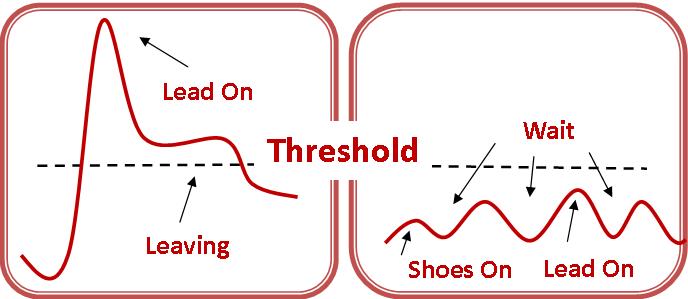 Forcing your dog to take more time over things stops excitement levels from spiking which pushes them over threshold. It you level out those peaks, a dog is much easier to manage, as we can see from this diagram! Going slow is quite tiring for your dog too, so no need to spend extra time on walks after you've finally got the lead on.
Clear away the stuff
Dogs that struggle to settle are often over stimulated, not under stimulated. The internet tells you to introduce more toys, walks, enrichment, and playtime. But, this does nothing to help our dogs switch off and settle their minds. This type of stimulation is actually addictive, so the more a dog gets the more they need.
Instead of adding more stuff and scheduling more playtime; clear away all toys, food, chews etc and swap a walk for a nap! Embrace the boredom together. It's less work, and it's cheaper too!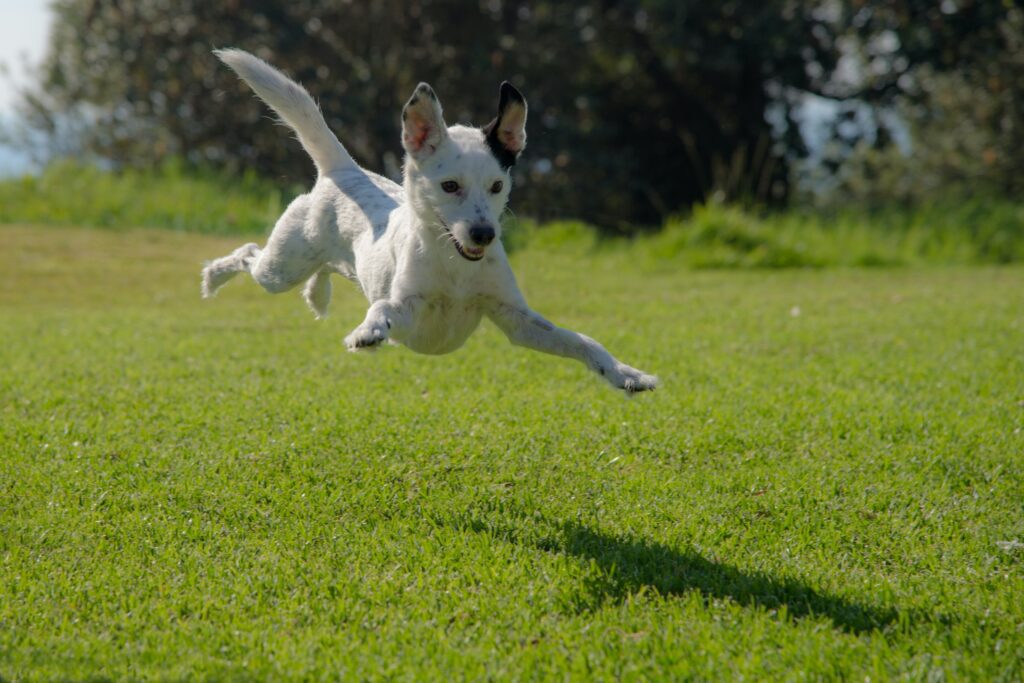 Teach recall
Spending just 10 minutes a day working on your dogs recall can make a massive difference. In a month you could have a recall that was good enough for most situations, and after two months you could depend on it! This is surely less work than being dragged about by your hyperactive dog as he lunges to get to every smell, wrapper, person, or dog he sees! Your walks might also get shorter because an off lead dog can cover far more distance compared to an on lead one. Meaning your walks are slow and ploddy for you, but still fast and fun for your dog!
Check out my 30 day recall program and learn how to teach your dog a recall you can rely on!
---
Are you struggling with a hyperactive dog?
Private Dog Behaviour Consultations are currently available in the greater Dundee area. If you are looking for help solving your dogs behaviour and training problems, then please get in touch!