Description
Things are changing, but I can still help you with your dogs behaviour, we just have to adapt the way we work together.
So, instead of me coming to your house, we will do it via phone, email, video, or whatever else it takes to get your dogs behaviour back on the right track.
Your initial consultation will normally be via Zoom. We'll start by having an in depth chat about your dog, the problems you are experiencing and anything else that is relevant, and then we'll discuss the training plan and what will be involved so we can get started.
How it works…
Instead of the traditional 3 hour consultation we'll break your training up into smaller parts. So we'll get things started with a 60 minute initial assessment. The initial assessment will normally be via Zoom. I will send you a link to my online assessment form, but if you'd rather not fill that in, it is useful to have a list of issues ready when we chat. A video of your dogs behaviour is also very useful (for best results the video should start before the problem behaviour starts and will finish a couple of minutes after it is all over, but do your best, you can reply to your booking confirmation with the attached video). From there we will discuss the best way forward and we'll make a plan of action that will suit you and your situation which will include at least one scheduled follow up session.
Your plan may vary depending on your situation, and I may recommend some of the following options…
I may be able to offer some advice straight away
I may ask you to send a video
I may ask you to gather more information
I may record a video for you
I may suggest additional follow up phone calls
I may suggest an online meeting with the whole family via Zoom
I may recommend an online class (classes will be added over the coming days)
I may suggest a 1-1 in (lockdown rules dependant) Baxter Park (if you are not local we'll rely on videos)
Either send me an email to discuss your situation and reserve a spot before booking. Or book now and I will get in touch within 24 hours to arrange a suitable time for a Zoom chat. Don't worry if you miss my call, I will keep trying you.
For most dogs and their families their initial consultation and follow-up (both included in the initial price) will be all that will be needed, in some cases further sessions/classes will be needed. Those can be added as and when you require them.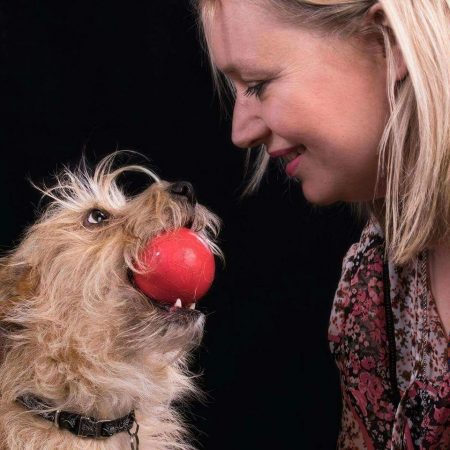 I have more than 15 years experience solving all kinds of canine behaviour problems, at home and in rescue. A bad experience with a old fashioned dog trainer inspired me to learn more about dog behaviour, and it is because of him, that I wall never use harsh methods when training and rehabilitating dogs.
I work privately with clients in Dundee and the surrounding area with dogs of all ages, breeds and issues including anxiety, aggression and hyperactivity.
In 2009 I was proud to publish a book about dog behaviour and training. How to be the Perfect Pack Leader (by Caroline Jenkins) remains popular today and a follow up is expected very shortly.