We are in the end game now. If you have only just come across these posts please head to part one and start there.
This is the bit where we put a final routine together so you can leave the house. You'll know from your diary what triggers your dog responds too so watch out for them as you work through your leaving routine.
Start your leaving routine as you would normally, but slowly, keeping one eye on your dog. As soon as you see a reaction, pause and wait for your dog to relax a bit and then reverse back to the start. Each time you repeat your routine your dog will become a little more comfortable with it and you will be stopping his anxiety levels from escalating. As he becomes more relaxed, you'll progress further and further into your routine and eventually you'll actually make it to your front door.
Progress typically slows at this stage as this is the moment he will be left. You might only get your hand on the door handle at first, then you might progress to a half turn, then a full turn. You might then be able to open the door a fraction, then a bit more, and then more, and eventually you'll be able to pass through.
Nearly there!
At this stage, just go. Wait a moment and then return as if nothing has happened. From here your goals are simply to increase the time until you can be gone for 10 minutes without too much drama. At this stage you are making great progress and can move towards getting back to normal.
Once your training is in full flow, keep at it. It takes 28 days to form a habit so don't ease off! I talk more about this and other reasons dog training plans fail in my blog.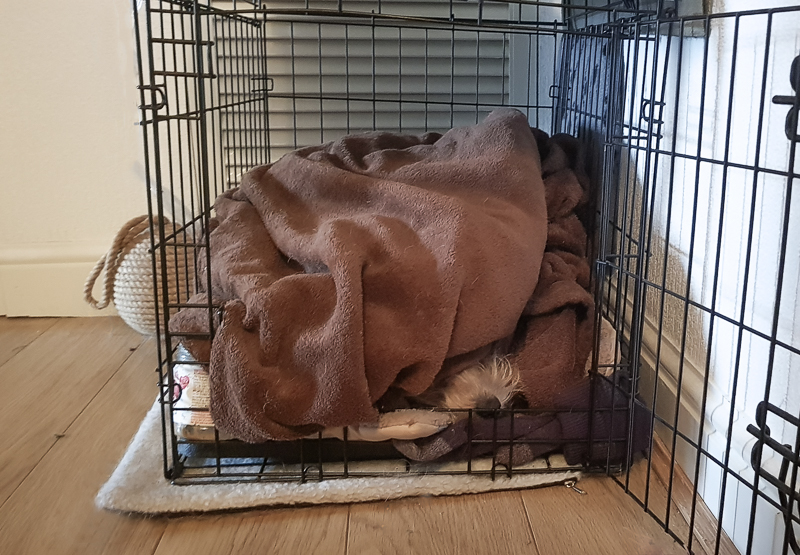 Plan B!
If you are still struggling after all this work then it's time to get some extra support, most likely that will be in the form of an experienced behaviourist. They should spend time with you and your dog looking for underlying issues that are preventing the training from working.
Other possibilities might include medication to help lessen the effects. Or, you maybe feel like this isn't the right time for training and would rather look into day care or a pet sitter. These strategies are valid, however unless you are working on the problem it will always be there in the background. It might also contribute to a general lack of confidence and impact your dogs behaviour in other scenarios, so please don't put it off for too long.
Are you struggling with your dogs behaviour?
Private Dog Behaviour Consultations are currently available in the Dundee area and beyond, or via zoom. If you are looking for help solving your dogs behaviour and training problems, then please get in touch!